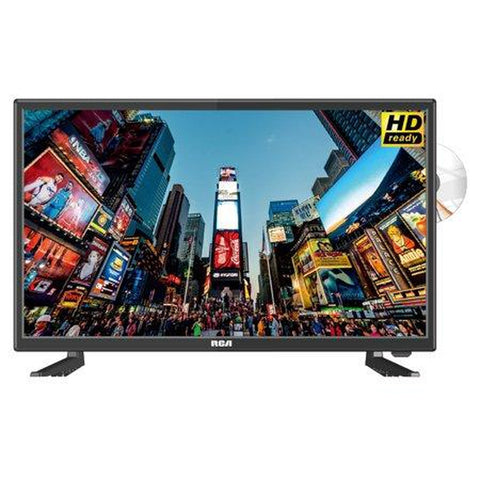 RCA 24" Class HD (720P) LED TV with Built-in DVD Player (RTDVD2405)
The RCA 24" 720p Class 60 HZ LED HD TV allows you to play your DVDs, CDs and photograph CD playback on the built-in DVD player . The RCA 720p LED HD TV has a true 16:9 aspect ratio so you can view your movies as the director intended and see a clear picture from anywhere in the room. It also has a built-in digital tuner. Connect up to one HD devices via the provided HDMI ports. HDMI ports allow you to connect multiple devices at once, so you can stream, browse, and listen to all of your favorite multimedia.
The built-in DVD player is ready for you to use with just a few clicks
24" screen is a good size for a bedroom or dorm room.
720p resolution for quality HD images. Watch broadcast TV and DVDs in high definition.
LED TVs perform well in all lighting conditions. They also deliver plasma-like deep blacks and rich colors.
1 HDMI inputs for the best home theater connection. High-speed HDMI delivers up to 720p picture and digital surround sound in one convenient cable. HDMI cable not included.
Enjoy the picture from multiple angles. 178° horizontal and vertical viewing angles provide a clear picture for viewers seated near the side of the screen.
Please add product into your cart before estimate the shipping cost